3D Tower Simulator
The regular training of active air traffic controllers forms an important part in HungaroControl's strategy. For high-quality ATC services, it is necessary to operate and use for training purposes a modern, three-dimensional tower simulator suited to model reality in the best possible way.
In 2008 HungaroControl built a tower simulator capable of modelling reality with a 180-degree, 3D display, currently suitable for the complete visual and functional simulation of three civil (Budapest, Sármellék, Debrecen) and three military (Szolnok, Pápa, Kecskemét) airports as well as a fictitious one.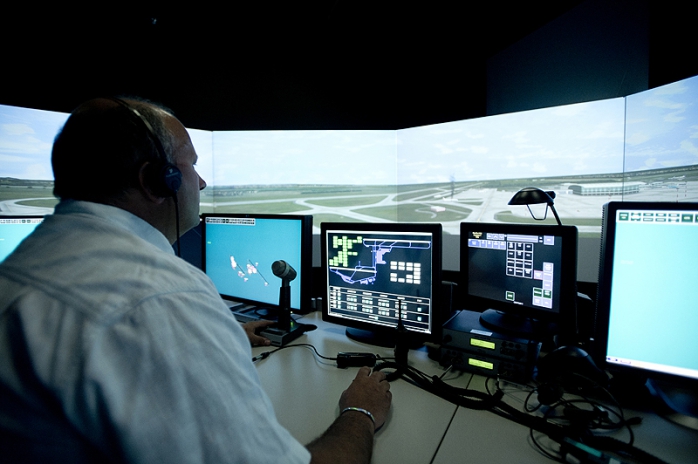 The tower simulator displays images on 5 LCD projectors in 180 degrees. In addition to three controller workstations, 1 instructor and 6 pseudo-pilot workplaces serve training purposes. The models of all civil and military aircraft flown in the Hungarian airspace, as well as all ancillary ground vehicles are included in the system with full functionality. As the models are freely modifiable, new models and paintings may be created, and new buildings can be drawn and modelled at the airports.
By application of the appropriate working technology, there is an opportunity for the basic and advanced training of civil and military air traffic controllers. During training, emergency situations as well as special military and civil tasks can be exercised, and refreshment courses can also be held. Any weather conditions (hail, wind, snow, rain) can be simulated in a way that the new conditions affect the real-time attributes of both the airborne vehicles and the airport and its surroundings. Special and emergency situations (e.g. radio failure, sick person on board, engine and landing gear problems) can also be practiced.
Since March 2016, HungaroControl's 3D tower simulator has been installed at the National University of Public Service. In addition to the training of HungaroControl's tower controllers, the system also provides opportunities for training and maintaining the skills of the air traffic control staff of the Hungarian Army, as well as practicing or testing special ATC tasks (e.g. the control and management of Unmanned Aerial Vehicles, fitting them in civil aviation, or other special approach procedures).