Successful SESAR 2020 Flight Centric ATC validation and open day at HungaroControl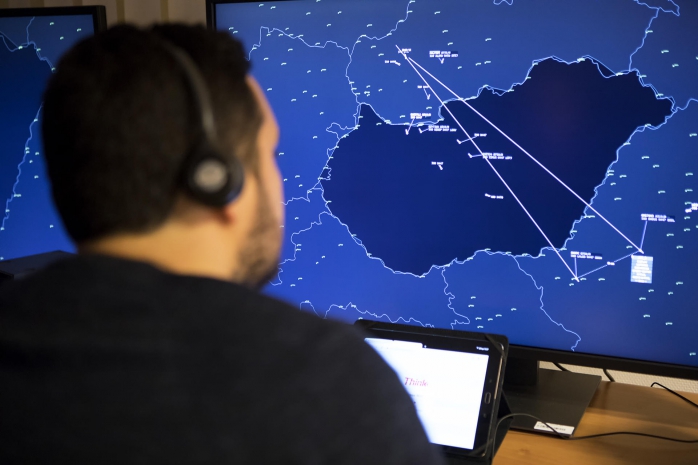 March 2019, Budapest – Flight Centric Air Traffic Control (ATC) validations with a live demonstration took place in Budapest in January 2019. More than fifty European ATC stakeholders took part in the exercise. The entire upper-airspace of Hungary was used for the demonstration of this advanced operating concept, with more than 10 air traffic controllers participating in the single-man operations.
Flight Centric ATC is an operating concept that offers an entire new approach to air traffic management operations (ATM). While European airspace is currently divided into sectors to provide safe separation services for aircraft, Flight Centric ATC is premised on an airspace structure without reference to geographical sectors, opening up the opportunity to distribute the traffic more evenly, and to avoid lost productivity in under-loaded sectors. Therefore, aircraft may be under the responsibility of the same controller across two or more 'geographical sectors' rather than handed over at sector boundaries. This new concept affects communications between controllers and pilots, as well as coordination procedures between controllers. In the terminal manoeuvring area, this alternative non-geographical allocation of airspace is based on assigning arrivals to one team of controllers and departures to another team of controllers.
As the number of controlled flights are on a rise in Europe, air traffic controllers are more and more overloaded. This operating concept can help resolve this issue with managing the traffic in a more seamless and efficient way. The validation platform was developed by DLR (Deutsches Zentrum für Luft- und Raumfahrt), which has been researching this concept since 2008, while Frequentis AG deployed its latest solutions to provide voice as a service thus enabling the successful integration of its voice communication systems to the DLR platform.
"HungaroControl and its partners started working on Flight Centric ATC in 2016. We had several simulation exercises and validations since and the results are promising, although this is still a Research & Development phase project" – stated Dóra Balló – Senior Project Manager, HungaroControl.
January's validation - the largest of its kind - was completed using real-life traffic patterns and was performed by more than 20 experts from HungaroControl, DLR and Frequentis. With a cooperation of this scale and the continuous capacity problems of air traffic controllers, human factor analysis is crucial.
Katalin Nánai – Human Factors Analyst, HungaroControl said "we focus on how this shift might affect the performance of controllers, as well as how the controller-pilot communication is transformed. We used questionnaires after each test to evaluate the impact of this new method and we found that certain stress factors can be eliminated with Flight Centric ATC."
The recent validation is a huge step toward the future implementation of this concept and will be followed by an even more complex validation in the near future, where more extreme weather and emergency situations will be tested along with an increased number of vertical movements. Participants in the project are confident that the concept of Flight Centric ATC will help improve cost efficiency and safety due to balancing the Air Traffic Controllers' workload.
More information via the website: https://www.sesarju.eu/projects/prosa
Background information about SESAR
As the technological pillar of the Single European Sky initiative, SESAR aims to modernise and harmonise air traffic management in Europe. The SESAR Joint Undertaking (SESAR JU) was established in 2007 as a public-private partnership to support this endeavour. It does so by pooling the knowledge and resources of the entire ATM community in order to define, research, develop and validate innovative technological and operational solutions. The SESAR JU is also responsible for the execution of the European ATM Master Plan which defines the EU priorities for R&D and implementation. Founded by the European Union and Eurocontrol, the SESAR JU has 19 members, who together with their partners and affiliate associations will represent over 100 companies working in Europe and beyond. The SESAR JU also works closely with staff associations, regulators, airport operators and the scientific community.
Detailed information about DLR can be found on the website: https://www.sesarju.eu/
Background information about DLR
DLR is the national aeronautics and space research centre of the Federal Republic of Germany. Its extensive research and development work in aeronautics, space, energy, transport and security is integrated into national and international cooperative ventures. In addition to its own research, as Germany's space agency, DLR has been given responsibility by the federal government for the planning and implementation of the German space programme. DLR is also the umbrella organisation for the nation's largest project management agency. DLR has approximately 8,000 employees at 20 locations in Germany.
Detailed information about DLR can be found on the website: https://www.dlr.de/dlr/en/
Background information about FREQUENTIS
Frequentis is an international supplier of communication and information systems for control centres with safety-critical tasks. These control centre solutions are developed and distributed by Frequentis in the business segments Air Traffic Management (civil and military air traffic control, and air defence) and Public Safety & Transport (police, fire and rescue services, emergency medical services, vessel traffic and railways). Frequentis maintains a worldwide network of subsidiaries and local representatives in more than fifty countries. The company's products and solutions are behind more than 25,000 operator positions in almost 140 countries. With this extensive portfolio, Frequentis is the leading provider of voice communication systems… all making our world a safer place every day! For more information, please visit www.frequentis.com
Background information about HungaroControl
HungaroControl is one of the most successful state-owned companies in Hungary, which provides air navigation services in the Hungarian airspace and (on a NATO assignment) in the upper airspace over Kosovo, trains air traffic control personnel and conducts air navigation research and development. The company's sole shareholder is the Hungarian State, while the rights of the founder and owner are exercised by the Minister without Portfolio Responsible for the Management of National Assets. With over 700 employees, HungaroControl's business is balanced and profitable without any budgetary subsidy. The company supports the Single European Sky programme aimed at improving the efficiency of European air transport.
Detailed information about HungaroControl can be found on the website: http://en.hungarocontrol.hu