HungaroControl has won € 11.3 million of EU funding to implement new developments
HungaroControl has been granted € 11.3 million, the largest EU funding of its history for new developments. Recently, four of our projects have benefited from a development resource, the most significant being the 'mirTWR' program for tower control systems.
Thanks to the mirTWR program, in the upcoming years the high-standard development of technological tools of the airport traffic control is provided.
Improving the company's world-class Remote Tower solution, the control of Budapest Airport, Debrecen Airport and the Pápa Airbase from a single remote location can be tested in one/single simulation environment. The development has also raised international attention: Changi Airport in Singapore tests the prototype of a remote tower control center similar to Budapest, and HungaroControl is participating in the projects.
The software development of the MATIAS control system, developed by Thales and HungaroControl's experts, has also received funding. As the member of an international consortium HungaroControl is also engaged in two other projects.
All of the development projects contributes to further enhance flight safety and to help the effectiveness of air traffic control.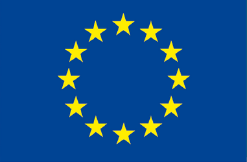 Co-financed by the Connecting Europe Facility of the European Union