Press Release: World ATM Congress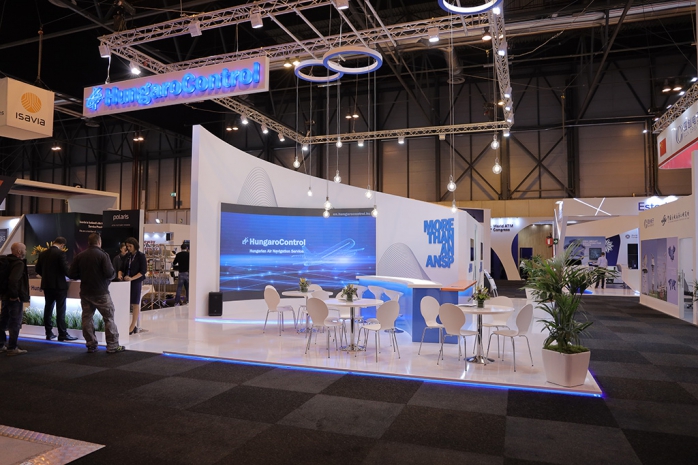 13 March 2019 – Madrid, Spain
HungaroControl has landed at World ATM Congress 2019 to join industry dialogue and showcase solutions that tackle the big issues in air traffic management (ATM). At the world's largest international ATM exhibition and conference, HungaroControl is bringing to the forefront its services and distinct capabilities that respond to the growing challenges and pace of change in the industry from innovation to digitalisation.
Long-term traffic forecasts from EuroControl are projecting an annually compounded growth rate of 1.9% in flights in Europe out to 2040*. This surge in demand presents numerous challenges to service providers who manage the finite and ever diminishing airspace capacity. Coupled with increasing pressure from users to deliver greater efficiency, predictability and cost-effectiveness, service providers must now adopt new approaches to solving age-old problems.
"Rapid growth in air traffic and an evolving operating landscape requires air navigation service providers to not only deliver services, but to also continuously innovate the way in which these services are delivered. HungaroControl is making strides in this through a research-driven approach that fuses forward-thinking and state-of-the-art technology to accelerate service improvements. The World ATM Congress gives HungaroControl, a Hungarian state-owned enterprise, the platform to highlight this to industry" said Kornél Szepessy, Chief Executive Officer of HungaroControl.
At World ATM Congress 2019, HungaroControl has its solutions in the spotlight – from scalable air traffic management solutions like remote tower technology to advanced simulation and training services like SimulationHUB, Europe's largest commercial radar simulator for validation activities. Research and development phase projects – like Gesture Control or Artificial Intelligence – and their implementation in air traffic management are also getting traction at the event. Further to its products and services, HungaroControl is also showcasing its successes to date and its innovation fuelled roadmap for future developments, including ongoing participation in the SESAR 2020 program.
Enikő Győri – the Hungarian Ambassador to Spain – spoke at HungaroControl's stand at this pre-eminent event "the key challenges facing the industry are widespread, and ultimately require a widespread response. HungaroControl is no stranger to these challenges, and it is positive to see the Company not only deliver improvements domestically, but to also bring its expertise across boundaries to collaboratively shape the future of air traffic management". However, addressing the most pressing issues of the industry takes more than just technology and new operating concepts; first and foremost, success is underpinned by strong cross-industry collaboration. At the Congress, HungaroControl will be engaging with its international partners and suppliers to forge stronger collaborative and commercial relationships.
*European Aviation in 2040 – Challenges of Growth Study – Flight Forecast, 2018