CANSO Global ATM Safety conference in Budapest a great success
CANSO's (Civil Air Navigation Services Organisation) global air traffic management safety conference was held on 6-11 November in Budapest, with HungaroControl hosting the event.
Participants shared their experiences and best practices aiming to further improve flight safety, and address the challenges their organisations are facing – in presentations, panel discussions, and speed poster (short presentation) sessions within the conference.
Session topics included: developments in CANSO's safety performance benchmarking and safety data analysis; application of the CANSO Standard of Excellence in Safety Management Systems (SMS); best approaches to facilitate 'safety culture' or 'just culture' within an organisation; an update from CANSO's new Human Performance Task Force; and safe and efficient methods to integrate remotely piloted aircraft systems (RPAS) into airspace.
This annual conference is an important industry event, thus it is important to HungaroControl as well. The discussions, the presented proposals, and the agreed actions are all making a great impact on the further improvement of flight safety, which is the most important goal of the aviation industry.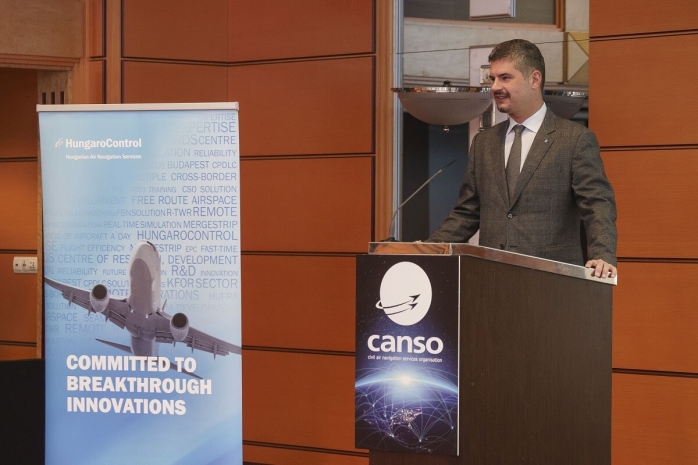 The programme of the conference reflected the culture and approach of CANSO's safety community: safety management methods must be continuously improved. The conference provided insights into the fine-tuning of CANSO's Standard of Excellence in SMS for more efficiency; and how to improve safety analyses to obtain data on the causes and triggering factors of accidents. New initiatives have been formulated, such as future plans for implementing CANSO's new Standard of Excellence in Air Navigation Services – Safety (SEANS-Safety), which allows for the evaluation of air navigation service providers' safety management systems, and integrating new entrants to airspace, such as drones.
Thanks to its state-of-the-art technology, HungaroControl is one of the most efficient and most reliable air navigation service providers in Central Europe, while its highly qualified experts are recognised all over the world. These statements are supported by the feedback received from international air navigation service providers and other entities after the conference. HungaroControl again takes a prominent place on the world map of ANSPs.