Hungary aims to take leading role in the application of drone technology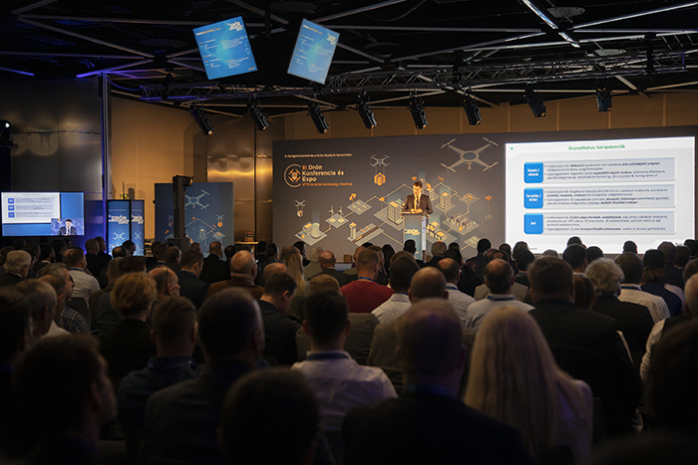 Budapest, September 28, 2021 - The main topics of the 3rd Hungarian Drone Conference and Expo were the initiatives and innovations of the domestic drone industry, the issues of traffic management of unmanned aerial vehicles, and the current state of drone regulation in Hungary. Hundreds took part in the joint event organized by HungaroControl, the Digital Welfare Programme and the Hungarian Drone Coalition in Budapest.
The new industrial revolution induced by the significant increase in usage of drones boosted economic innovation processes in Hungary. This is evidenced by the recent establishment of several various collaborations aimed at providing a common platform for public, industry and scientific actors to effectively carry out the organizational, developmental and production activities in relation to unmanned aerial vehicles. However, in addition to deepening professional cooperation, it is also important to discuss the current legal environment, which is in force since the beginning of the year, encouraging further development. The 3rd Drone Conference and Expo organized by HungaroControl, the Digital Welfare Programme and the Hungarian Drone Coalition in Budapest served this purpose, where beside presentations and round table discussions, domestic companies also presented their innovative products and services.
In his opening speech, László Palkovics Minister for Innovation and Technology emphasized that Hungary seeks to play a leading role in the introduction and utilization of drone technology not only in the region, but at the European level as well. He stated: "we need a strong drone ecosystem, because without it we will not be able to take advantage of the high innovative potential and extraordinary socioeconomic added value associated with unmanned aerial vehicles. That is the reason why we have established the Hungarian Drone Coalition, which comprises almost 100 member organizations. We believe that coordinated collaboration of those organizations and preparation of national drone strategy can effectively stimulate domestic drone innovation.
Kornél Szepessy, CEO of HungaroControl stressed out that "the strategic mission of the Hungarian air navigation service provider is to develop and offer flexible, user-oriented services which will help in the management of the country's complex air traffic in the future. At the same time, it is the common task of state and market actors to increase confidence in drones, which a confidence in future - all this can be easily achieved thanks to the outstanding Hungarian expertise".
The lead expert of the Digital Welfare Programme (DJP) highlighted that drone technology is disruptive, because the digital technology is constantly transforming markets and our lives. The government has recognized this and is ready to cope with these challanges. "Therefore, the aim of the Hungarian Drone Coalition is to create a prosperous drone industry, to support innovation and to provide a permanent platform for cooperation between drone developers and users consisted of market and state actors. Consequently, the most important task is to prepare the Hungarian Drone Strategy" - added Dr. András Levente Gál.